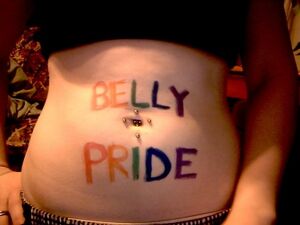 The ReBellyon is a movement started by Amanda Palmer fans outraged by RoadRunner Records' accusation that Amanda Palmer's belly was too fat to appear in a music video.
After the release of her music video for the song "Leeds United", Palmer sparked controversy with a post in her blog. She claimed Roadrunner Records had wanted to pull certain shots from the video that exposed her stomach, because "they thought I looked fat". After her fans read about this, they immediately posted pictures of their stomachs online with messages to Roadrunner, lyrics, and words of comfort. They then sent in their pictures to the record label, and even started their own website. The fans coined a term for the movement: The ReBellyon.[1]Pitchfork Magazine[2] and The Guardian[3] were among publications reporting on the controversy. Since then The Rebellyon has developed a website run by independent musician Matt Wyllie[4].
References
Edit
Ad blocker interference detected!
Wikia is a free-to-use site that makes money from advertising. We have a modified experience for viewers using ad blockers

Wikia is not accessible if you've made further modifications. Remove the custom ad blocker rule(s) and the page will load as expected.